Medical Cardiology > Trinidad and Tobago
Medical Cardiology > Trinidad and Tobago
5

out of

5
based on
500
ratings

Linco Tyres Limited specialises in the wholesale of new tyres to the Trinidad and Tobago market. At present we are the importers and wholesalers of the MAXTREK range of tyres. We provide a wide ran...
Tyre Dealers

Radio Jaagriti 102.7FM - Listen Live Online Mission: Promote Dharma mms://jaagriti.gnxnetwork.com/jaagriti - LISTEN LIVE http://www.facebook.com/pages/Radio-Jaagriti-1027-FM/152680485207 - L...
Radio Station and Broadcasting Companies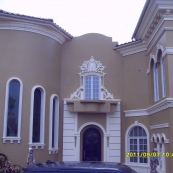 Home Aesthetics was formed in October 2007. Our Management and Production team has been involved in the construction industry for over fifteen (15) years. Our niche market is in the production and ...
Mouldings