Automobile and Accessories > Trinidad and Tobago
Automobile and Accessories > Trinidad and Tobago
5

out of

5
based on
500
ratings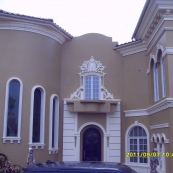 Home Aesthetics was formed in October 2007. Our Management and Production team has been involved in the construction industry for over fifteen (15) years. Our niche market is in the production and ...
Mouldings

We Provide: Professional Alarm Installation Reverse sensors Immobilisers CD Players TRAMIGO GPS Tracking devices. For Professional Alarm Installation and sales on car alarms,GPS and a ...
Automobile Alarms & Security Systems

Port Protection Services Limited is committed to providing efficient security services to our clients at competitive cost. PPSL is registered with The Ministry of National Security as a Protective Ser...
Security Guard and Patrol Services