Medical Nephrologists > Trinidad and Tobago
Medical Nephrologists > Trinidad and Tobago
5

out of

5
based on
500
ratings
MORE DETAILS
+1
---
MORE DETAILS
+1
---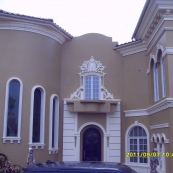 Home Aesthetics was formed in October 2007. Our Management and Production team has been involved in the construction industry for over fifteen (15) years. Our niche market is in the production and ...
Mouldings

ACES Ltd was formed to provide avenues for sustainable products and services in Trinidad. Our products: -100% biodegradable food packaging -Eco stationery - recycled pens, notebooks, promotiona...
ECO Products

Computer Empire Limited is conveniently located at #17 Park Street, opposite Victoria square in Port of Spain. We specialize in the sale of computer accessories, equipment, bags,laptops,tablets, ph...
Computer Parts and Supplies